Book Club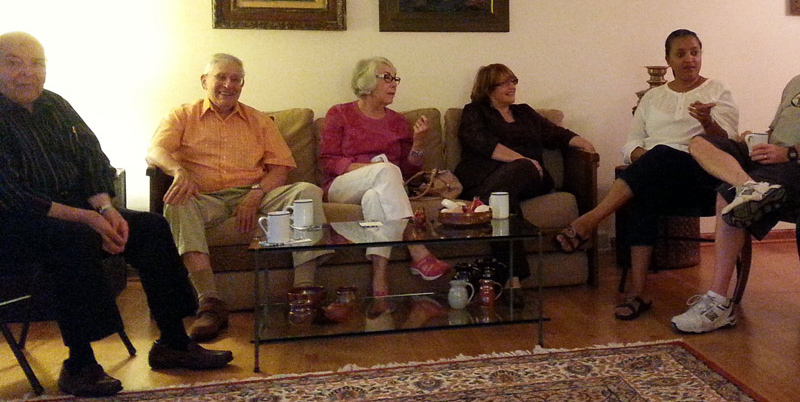 The book club meets every other month at a member's home for socializing and spirited conversation. Our past meetings have included fiction and non-fiction, contemporary and classic books. Reading the book isn't required, but it definitely helps. Our discussions are very lively because our members have varied life experiences and professions, and, of course, opinions.
Memories of Seders Past
Date: Tuesday, April 4
Read the book, The Dinner Party by Brenda Janowitz and join us for a lively discussion. Even if you do not read the book, come and share your seder memories. Copies are available in the CBI library or you can purchase the paperback or kindle version from Amazon. The evening promises to be lots of fun, laughs and noshes with recipes.
Our Previous Selection was  "A Guide for the Perplexed" – author Dara Horn
Synopsis: The incomparable Dara Horn returns with a spellbinding novel of how technology changes memory, and how memory shapes the soul.
Software prodigy Josie Ashkenazi has invented an application that records everything its users do. When an Egyptian library invites her to visit as a consultant, her jealous sister Judith persuades her to go. But in Egypt's post-revolutionary chaos, Josie is abducted-leaving Judith free to take over Josie's life at home, including her husband and daughter, while Josie's talent for preserving memories becomes a surprising test of her empathy and her only means of escape.
A century earlier, another traveler arrives in Egypt: Solomon Schechter, a Cambridge professor hunting for a medieval archive hidden in a Cairo synagogue. Both he and Josie are haunted by the work of the medieval philosopher Moses Maimonides, a doctor and rationalist who sought to reconcile faith and science, destiny and free will. But what Schechter finds, as he tracks down the remnants of a thousand-year-old community's once-vibrant life, will reveal the power and perils of what Josie's ingenious work brings into being: a world where nothing is ever forgotten.
An engrossing adventure that intertwines stories from Genesis, medieval philosophy, and the digital frontier, A Guide for the Perplexed is a novel of profound inner meaning and astonishing imagination.